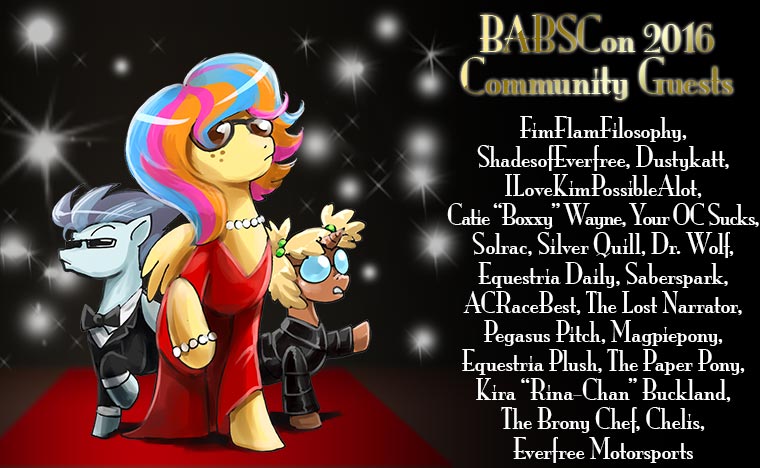 Fillies and gentlecolts, prepare your yourselves for 3 days of San Franciscolt-style adventure at this year's Bay Area Brony Spectacular. Joining our massive Show & Comic staff Guests of Honor, are celebrities of fandom, the #HorseFamous, none other than our Community Guests. Master producers FiMFlamFilosophy and ShadesofEverfree join us as this April 22-24 for all things animation! From the realm of YouTube we bring you the multi-talented Dustykatt, ILoveKimPossibleAlot, Catie "Boxxy" Wayne, Your OC Sucks and Solrac. Analysts Silver Quill and Dr. Wolf will break things down for everypony and the full troupe of Blog Ponies from Equestria Daily will be here to tell you Trixie is best pony and how to never go to bed. Dynamic Duo Saberspark and ACRaceBest are guaranteed to shake things up and The Lost Narrator, Pegasus Pitch and Magpiepony will spin some wild tales.
But we're not done yet! The talented hands behind our exclusive Golden Gates plushes, Equestria Plush returns this year, as do the shadow box master minds, The Paper Pony. You'll be able to lend an ear to none other than Kira "Rina-Chan" Buckland to hear all about voice acting and The Brony Chef will be mixing up a good time for all. Last but not least, the one and only Chelis joins us for a spin of the yarn and bit of drama and Everfree Motorsports is sure to excite with their Forza 4 racing rig.
Be sure to catch your favorite bronies at the one and only Bay Area Brony Spectacular, April 22-24, 2016. They'll be with us for all the festivities and friendship we have to offer, so come be a part of the action. Meet your favorite stars here at BABSCon! You can join us and get your membership at registration.babscon.com. Hurry, April is closing in fast and you don't want to miss your chance!
A bit of sad news, Katie Cook unfortunately will be unable to attend due being too darn awesome and being given just so much work to do. She has to take some time to knock out a ton of fresh new comics!
And for anyone having trouble getting a room at con hotel, we have a room block just opened up at the Holiday Inn Express next door that you can get here!
(Art by slifer the sky dragon)