Volunteer For BABStaff
Bay Area Brony Spectacular
A My Little Pony Fan-run Convention
March 29 - March 31, 2024
Hyatt Regency SFO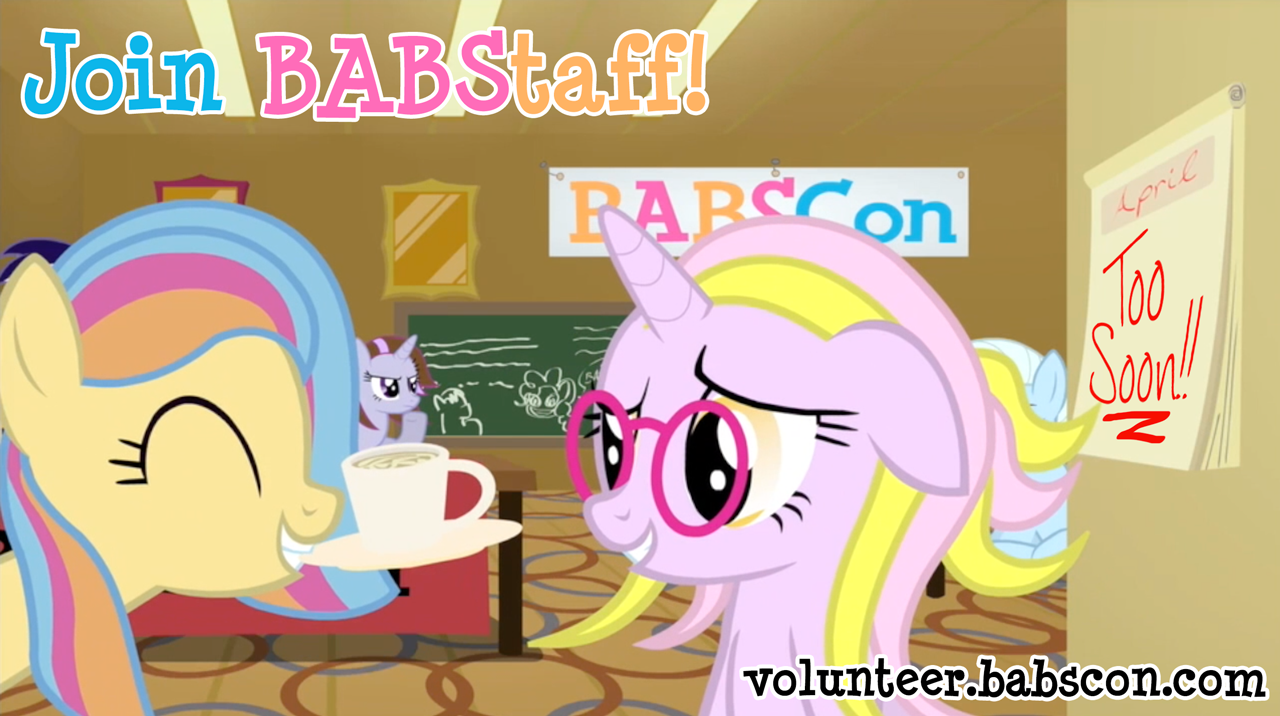 Have you ever wanted to give back to the MLP fandom, but weren't quite sure how?
Do you want to create an epic and memorable event pony fans will talk about for months?
Would you like to join a team of dedicated, fun-loving, and awesome people, just like you?
Will you be at least 18 years of age by the start of the convention?
Then you should totally volunteer for BABSCon 2024!
If any of the positions listed below seem like what your cutie mark is telling you, please fill the BABSCon volunteer application form by clicking on the button below!
More positions coming soon!
Attendee / Sponsor Relations
Attendee / Sponsor Relations helps liaise between convention leadership and attendees as needed. At-con, the Sponsor Relations lead is the direct point of contact for sponsors who may have direct questions for sponsor activities, or who may be experiencing friction in other areas at the convention.
A/V Productions
Our AV department oversees all of our audio and video needs - from stage lighting to the concert to everything else AV related. This is a good department to join up if you want to pick up technical skills that translate outside of the con scene! We have multiple positions available including: Panel Tech, Video Lead, Stage Manager, Stagehand, Lighting Tech, Audio Lead, AV Tech, Camera Operator, Switcher Operator, and more.
Charity
Have a big heart and want to help us with giving back to the community at large? Then join us over at Charity, where you will be helping BABSCon process and prepare various gifts for use in our charity auction and lend assistance to the smooth running of our altruistic operations. Basic duties include interfacing with donors and beneficiaries, categorizing and organizing donations, and assisting the Charity Lead with key tasks. Basic data entry (spreadsheets) and guest service skills are ideal, but not necessary.
Convention Operations
Operations
Operations is one of the cornerstones of the convention, working closely with every department to coordinate as needed. From being the first point of contact as staff check in, to managing dispatch for all radio traffic at con, every staff member will interact with Operations at some point during the weekend. We are also one of the more public facing departments open to directly helping attendees with answering questions, responding to incidents, and coordinating with FLARE for specific security or medical needs. Ultimately if something (or someone) is missing, some info is needed, an issue is becoming 'an issue,' or anything else, ConOps is there to relay radio and phone calls, get the proper people moving in the proper direction, and tackle any situation that arises.
Accessibility
Accessibility staff help work the public facing accessibility table, help with line management, assist attendees and other staff with accessibility needs, help with placing signage for accessibility including but not limited to priority seating and taping of wheelchair access areas in accessible rooms. Accessibility staff have knowledge of both visible and invisible disabilities. Knowledge of ADA laws is helpful but not required. Accessibility also is in charge of the Calming Cove, where we provide con-goers in a space to help relax and decompress from the hubbub of the con.
Gophers
Gophers are a core part of BABSCon, helping assist almost every department when they need an extra hand. Whether that be logistics with their load in/out, Operations with badge checking, or hospitality with preparing staff meals, gophers play a critical role in helping keep the convention running smoothly. Most gophers volunteer at the con, helping out for a couple hours here and there.
If you have leadership experience or are up to the challenge, we are also looking for leaders to help coordinate the walk-up volunteers at-con.
Hospitality (Staff Feed)
As the most beloved department of the con, taking care of the volunteers is an area where BABSCon excels! Hospitality exists to ensure the health and well-functioning of all staff members at Babscon. We are in charge of preparing Staff Feed, ensuring all our staff have hot meals available throughout the convention. As well as the staff lounge, giving our staff an opportunity to relax and be off their feet.
HR
HR is critical to helping ensure our staff are all up to speed and no one slips through the cracks. This is especially important as we onboard staff, making sure folks have the access they need, to email, Slack channels, google drive, and more. HR is also there as an open line of communication for any internal staff concerns that folks may not be comfortable directly addressing with their leader. Previous HR, or similar experience is preferred.
At-con HR manages staff check-in and assists the broader Operations department as needed.
Info Desk
Info desk is one of the most visible departments in the convention floor, helping answer the bevy of attendee questions throughout the convention. Quick-thinking, problem solving, and resourcefulness is helpful for this position. If you can't answer a question it's important to be able to reach out across the organization to find the right person who can.
Pre-con, Info Desk helps manage the info@ email address.
Logistics
Logistics Staff
Logistics staff help with con setup and break down. This includes offsite con pickups, loading and unloading materials, assisting Logistics Lead, and performing Lead delegated tasks if needed. Logistics requires the most help during first locker pick up (early Thursday morning), and last locker drop (late Sunday night/Monday morning). And occasionally has scheduled shifts during the regular convention hours. If you want to volunteer, and don't want to miss any of the con, Logistics always can use more helping hooves. Access to a vehicle for quick trips during con is a huge plus. Prior con experience in Logistics work is preferred but not required.
Registration
The very first volunteers BABSCon attendees see are responsible for keeping the registration lines moving as quickly and smoothly as possible. Training will be provided to handle On-Site and Pre-Registration transactions, printing badges, information checks, and basic line control. Cool heads, strong smiles, and unwavering kindness are especially welcome!
Design
Design Team
Do you have an eye for design? Join the design team! Our staff artists help create the brand image of BABSCon, working closely with our theme team to create our badges, signs, banners, website announcement images, and more! Most of design's work is pre-con.
Con Book
Do you have publishing experience? Or experience working with print media? Come join the Con Book team! Working closely with Design, Events & Programming, Marketing, and other departments, the Con Book team is responsible for putting together the physical con book, and working with the manufacturer to get it printed and delivered to the convention.
Con Store
It's our own little retail operation! The BABSCon store sells convention-branded swag and products throughout the length of the con. Volunteers are responsible for setting up the store, helping con attendees select their purchases, keeping track of the inventory, and running the cash register. Retail experience is not necessary, but applicants should be ready to talk to a lot of people in this exciting position.
Merchandise Procurement
Merchandise is in charge of producing merchandise for the convention, as well as managing the online Etsy Store. We submit orders to our manufacturing partners to produce the various lanyards, shirts, plushies, and other physical rewards for sponsors, staff, and the Con Store at large. Experience with procurement and working with manufacturing partners is highly preferred.
Events & Programming
E&P Team
Events and programming covers most of the "content" at the convention and plans out the entire convention schedule. This includes but is not limited to: coordinating Community Guests, Panels, VIP Panels, Ticketed Events, Room Parties, Video Game Room, CCG Room, Table Top Room, Cosplay, and coordination with Theatrics. Our department solicits panels and guests, vets them, helps facilitate their events, and ensures that they are compensated and convention programming runs smoothly.
Arcade
The arcade always can use extra hands, between setting up, keeping the arcade open almost all day every day, and tearing down, they need a full team to keep things running smoothly.
Children's Programming
Ensuring that even the youngest attendees of the con have an experience they'll treasure for a lifetime is something BABSCon strives for as a convention for all ages! We are a safe space room dedicated to the true reason for the show My Little Pony. We provide arts and crafts, make your own cosplay, face-painting cutie marks and Featuring friendship bracelets this year. Art and crafts are everything from god eye turtles to coloring books and coloring pages. We have all colors of construction paper and supplies to do art to the little ones' content. The Children can create their own cosplay with ears, wings, and tails. All crafts will have instructions so they should be able to be followed easily. Volunteers are required to keep the kids safe from harm while giving them the Best Con Ever! Being responsible and great with kids are highly sought after skills for this very important position.
Cosplay
Under the guidance of the E&P Director this person will help create the magic which is cosplay at the convention. Tasks include creating guidelines for, and running, cosplay contests and fashion shows, setup of the cosplay repair lounge, and welcoming a host of creative and friendly cosplay artists to enrich the convention milieu.
Trixie's Tables (Table-Top Gaming and CCG)
If you posses the Director's vision it takes to put on a Great and Powerful show, you might find yourself apt to this role. As Table-top Gaming Lead, it's your job to recruit volunteers, gather and organize games and equipment from volunteers, ensure that all such materials are cared for and returned to their owners, organize and schedule adventures and tournaments with the help of your staff, curate and moderate any original materials, and overall ensure everyone attending has a great time. Customer Service and event planning experience are highly recommended. And of course experience and passion for running tabletop game sessions is important.
Theatrics
Theatrics provide attendees with an interactive story. In years past this has been accomplished through a performance on the main stage at both the opening and closing ceremonies. The audience could vote for their favorite villain or hero, see our wonderful mascots crash panels, or fight for the very soul of San Franciscolt. This year, we will be returning to the bay to see what has become of our once great city after a large fire brought down everything in its wake. The siblings; Copper Chip, Silver Span, and Golden Gates, were accidentally launched into space, and have since gotten themselves lost. Now it is up to our new mayor and her friends to find the siblings and bring them home.
VIP Relations
VIP Relations is the department responsible for coordinating the Guests of Honor. Everything from reaching out and negotiating contracts, to supporting the GoH at-con with their panels, autograph sessions, and the like.
VIPR Liaison
VIPR Liaisons are of the important volunteer positions at BABSCon. For the duration of the convention, volunteers in this position will become the personal assistants of BABSCon's Guests of Honor. Responsibilities include making sure the Guest of Honor enjoys their time at the con, and ensuring the Guest of Honor fulfill their contractual obligations (like being on time for agreed upon panels, autograph sessions, etc.) Volunteers in this position are held to the highest standards of professionalism.
Green Room Staff
Ensuring BABSCon has a safe, quiet, and most importantly private location for BABSCon Guests of Honor to relax is a position held in the highest regard. Volunteers are responsible for stocking the Green Room with needed materials (drinks, snacks, etc.), attending to the needs of VIPs while they're in the Green Room, and ensuring that only those who are allowed to enter the Green Room are let in. Remember, what happens in the VIP Green Room, stays in the VIP Green Room.
Autograph Room Staff
Voice Actors, Writers, and other Guests of Honor not tabling in the Vendor Hall will settle down in BABSCon's Autograph Room to meet con attendees. Volunteers are responsible for basic line management, running the cash register, and directing con attendees around the room to meet their favorite Guests of Honor! Retail experience is not necessary, but cool heads, strong smiles, and unwavering kindness are especially welcome!
IT
Pre-con we're the folks behind the website and registration site, and at-con we set up and take down the Registration desk. If you know how to plug in a USB cord and what Ethernet is used for we could certainly use extra hands. After that though staff are free to help out in other departments that need it.
PR/Marketing
We always need help in getting word out! On social media, in your local community, reaching out beyond the core fandom… any way to convince more people to enjoy the awesomeness that is BABSCon! Previous marketing experience is not necessary but you should be active and comfortable in a social media setting.
Vendor Relations
BABSCon prides itself on the quality experience of their Rainbow Falls Trader Exchange, for both con attendees and those set up in the hall. And our vendors department oversees the vendor hall in its entirety! This includes tending to our applications, instructing the vendors on what to do, and administering the vendor hall at con, including opening and closing it. Volunteers are responsible for ensuring that Vendors have everything that they need and addressing any concerns/issues they might have. Customer service and communication skills are helpful, but not required for this position.
Other
Not sure how best you can help BABSCon? Give us a holler and we'll be happy to talk more about what each department does and where you might best fit in.