COVID-19 Policies
Bay Area Brony Spectacular
A My Little Pony Fan-run Convention
April 15 - April 17, 2022
Hyatt Regency SFO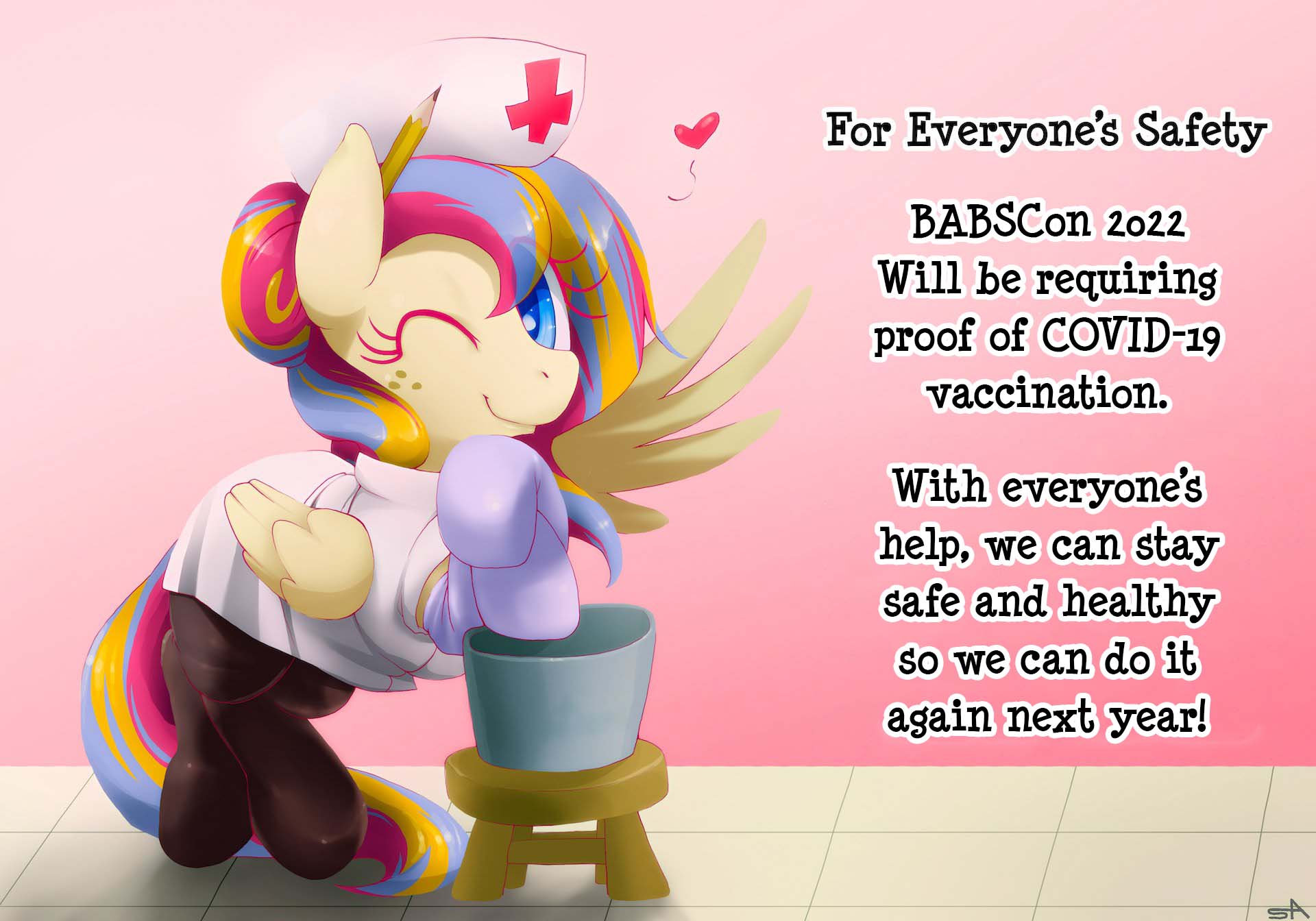 (Updated 10/13/21. Watch this space for updates!)
Due to the ongoing pandemic, and the rise of more contagious strains like the Delta variant, the BABSCon Staff will do everything in our power to protect human health and safety. To this end, we will be requiring proof of full vaccination from everyone in attendance for BABSCon 2022. This means attendees, staff, vendors, panelists, guests…everyone.

The only exceptions to this rule are those who cannot be vaccinated because of documented medical reasons and those not yet old enough to be vaccinated. Those unable to be vaccinated will be required to show documentation of a negative COVID-19 test performed no more than 72 hours before the convention.
Acceptable Proof of Vaccination: We will be requiring verified digital certificates or vaccine passports for everyone capable of getting one. Those with SMART Health or EU Digital COVID Certificate QR Codes are preferable, but any digital record verified against government vaccination records will be accepted. (See FAQ below.)
Acceptable Proof of Medical Exemption: We will only accept a doctor's note—M.D., D.O., or M.B.B.S. licensed to practice medicine in your state or country, no "alternative" practitioners—verifying that you have a condition preventing you from being vaccinated. This must be on the original office letterhead containing the doctor's office's contact information for verification. Copies or photos will not be accepted.
Mask Policy: TBD. As of this writing it is our hope that, by BABSCon 2022's dates of April 15–17, the current coronavirus surge will have abated and we will be able to merely recommend rather than require masks while at con. However, if the con happened now, that would not be possible and we would have to require masks in all spaces when not eating or drinking. Please watch this space for updates on this policy.
FAQ
What Constitutes "Full Vaccination"?

2 shots of an mRNA-based vaccine, such as Pfizer/BiONtech, Moderna, or AstraZeneca, or one shot of a conventional vaccine, such as Johnson & Johnson.

Why Are You Not Accepting Physical Cards?

There's unfortunately a very good reason why. Forged cards are far too easy to make or buy, while verified digital certificates or passports can't be faked. The only exception to this is attendees from countries not offering digital certificates or passports. In that case, and that case only, will we accept a physical document.

So Where Do I Get A Digital Certificate or Vaccine Passport?

As of right now, several US States & territories, and many countries (including the UK & all of the EU) offer government-issued digital certificates and passports:

California
Alaska, Arizona, Louisiana, Maryland,Mississippi, North Dakota, Washington DC, Washington state, Puerto Rico (QR Codes coming soon!)
New York (Excelsior Pass Plus only)
Virginia
Colorado
Hawaii
Canada: Provinces; National standard coming soon
The UK
The EU
List of Other Countries that Issue Digital Certificates

For all US-based attendees from states or territories not listed, there are several 3rd party options available which are verified and are both HIPAA-compliant and bound by relevant privacy laws:

VaxYes (Available for everyone in the US. Level 3 or 4 verification only)
Clear (for those vaccinated at Clear partner facilities—check if yours qualifies)
WalMart/Sam's Club (for those vaccinated at a WalMart or Sam's Club location)

What About Rumors That the Vaccines Aren't Safe?

This is simply not true. Side effects and adverse reactions are extremely rare, and usually very short-lived when they do occur. And, needless to say, any conspiracy theories about the vaccines containing microchips, altering your genes or DNA, making you magnetic, etc., are just that: conspiracy theories, and no more true than the Flat-Earth theory.

Isn't Asking Me for My Vaccination Status a Violation of HIPAA (The Health Insurance Portability and Accountability Act)?

No, it is not.

But What About My Freedom of Choice Not to be Vaccinated?

That is absolutely your choice, but that choice comes with the consequence of not being able to attend our convention.

Don't We Get a Religious Exemption?

No, BABSCon is not allowing religious exemptions to our vaccine requirements. While BABSCon respects freedom of conscience and religious belief, we must prioritize human life and health. Additionally, most major religions have no objection to their believers being vaccinated.
Please check back between now and the con as new information is received. If you have any questions about these policies, please email info@babscon.com.