Accessibility at BABSCon
Bay Area Brony Spectacular
A My Little Pony Fan-run Convention
April 15 - April 17, 2022
Hyatt Regency SFO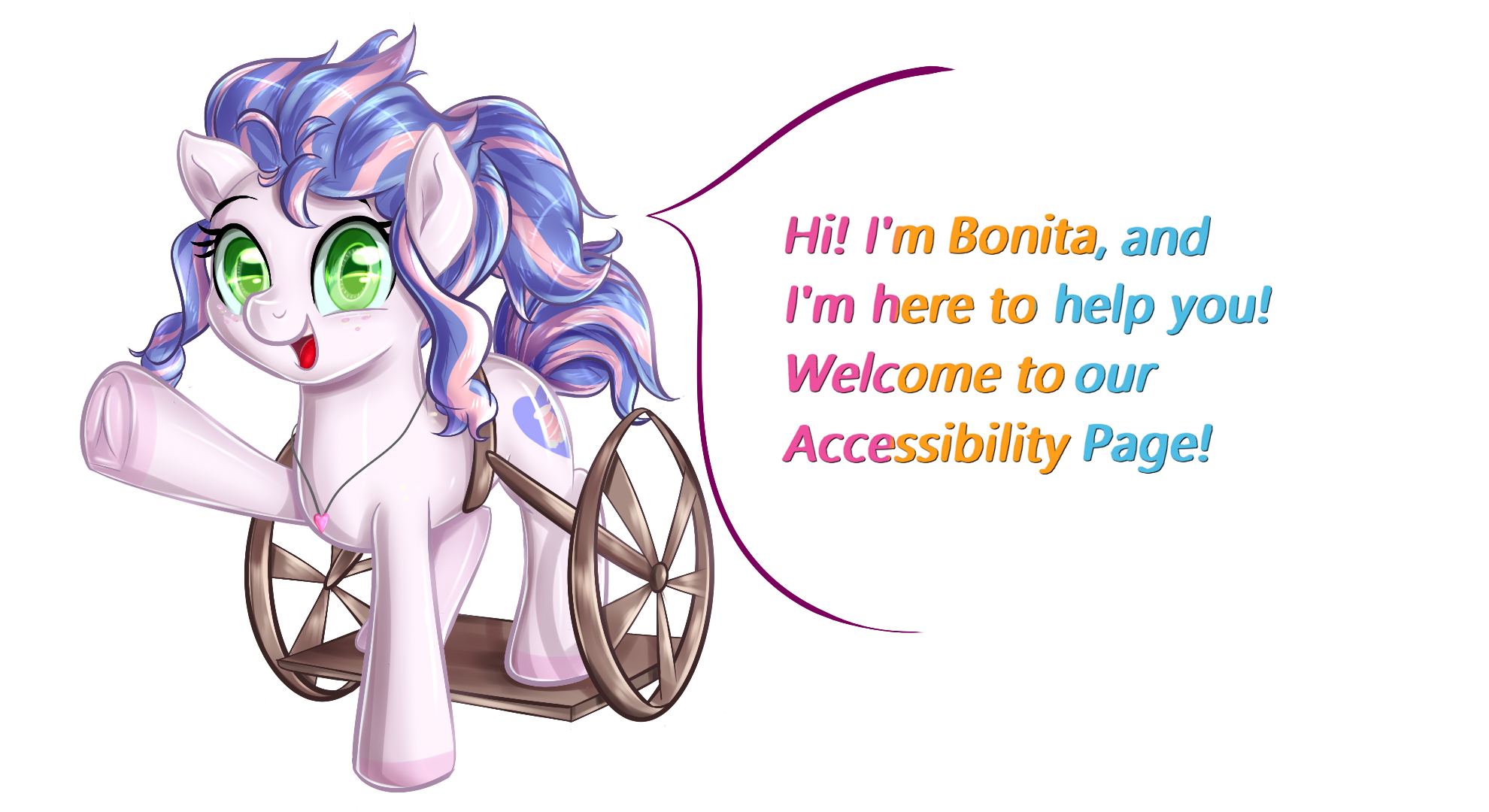 Here at BABSCon, we are committed to accommodating the accessibility needs of our attendees. Throughout your attendance at our event, we hope to provide many forms of accommodation. This page explains some of those accommodations, but we acknowledge that we may not have covered specific issues/concerns that you may have. If you require an accommodation not mentioned on this page, please feel free to contact us at conaccess@babscon.com. If you have arrived at the convention and find yourself concerned, please come to our Accessibility Table located near the Registration Table.
Accessibility Indicator
An Accessibility Indicator is available at our Accessibility Table (located near Registration), or in the Con Support room, for attendees who may need additional time to find seating appropriate to their needs. This indicator will be placed on your badge, and allows you and up to 2 friends to enter Panels and Mane Events 5-10 minutes before the general crowds. Please ensure that you show your pass to the staff member in charge of the lines, and you will be directed to an appropriate waiting area.
Panel and Event Seating
We want to ensure that appropriate seating is provided for all of our guests with accessibility needs. If you will need assistance reaching an appropriate seating area, please don't hesitate to ask our amazing staff members.
Sensory Relief Room
Queen Quake's Calming Cove is our low-sensory relief area. This area will be a quiet area with low-sensory inputs. Individual activities may be provided, and we ask all attendees (and staff) to pay close attention to the desired communication level of all individuals within this area.
Service Animal Etiquette
BABSCon is a Service Animal (SA) and Emotional Support Animal (ESA) friendly convention. We welcome our attendees who require these valuable assistance animals!
The convention hotel is animal friendly, and a relief area is provided just outside the hotel. There are grassy areas between the hotel and parking structure that include doggie bags for waste pickup. This area is accessible from the front doors (turn to the left and you will easily find the grassy area suitable for pet waste) or beyond the back doors by the elevator bank (turn to the right, and you will easily find the grassy area). This area has a wheelchair accessible sidewalk along the grass. Please ensure that all animal waste is removed properly before leaving the area.
While BABSCon recognizes the amazing work that SAs and ESAs perform, standards of behavior must always be met. BABSCon will require a handler to remove their SA or ESA from the convention space if they exhibit any of these behaviors:
Urinating or defecating within the convention space
Creating a disturbance by barking, growling at, or otherwise disturbing fellow attendees or staff members
Biting, clawing, or jumping on fellow attendees or staff members
Attacking a fellow SA or ESA (growling, barking, or physical attack)
Causing damage to convention or hotel property