Volunteer For BABStaff
Bay Area Brony Spectacular
A My Little Pony Fan-run Convention
April 15 - April 17, 2022
Hyatt Regency SFO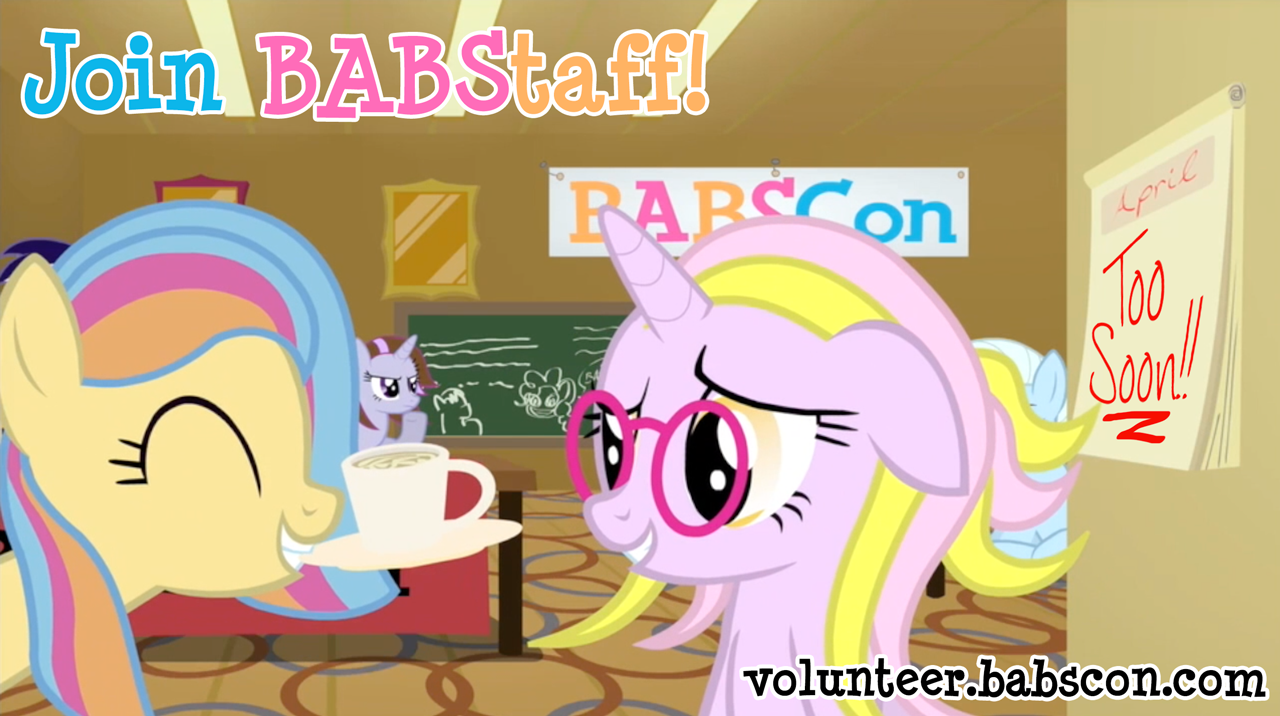 Have you ever wanted to give back to the MLP fandom, but weren't quite sure how?
Do you want to create an epic and memorable event pony fans will talk about for months?
Would you like to join a team of dedicated, fun-loving, and awesome people, just like you?
Will you be at least 18 years of age by the start of the convention?
Then you should totally volunteer for BABSCon 2022!
If any of the positions listed below seem like what your cutie mark is telling you, please fill the BABSCon volunteer application form by clicking on the button below!
More positions coming soon!
ACCESSIBILITY:
Second
All staff for accessibility must work at least 3 shifts to get a staff badge they can work in multiple departments but the total by end of con must be 3 shifts. Accessibility staff help work staff table, help with line management, assist attendees and other staff with accessibility needs, help with placing signage for accessibility including but not limited to priority seating and taping of wheelchair access areas in accessible rooms. Accessibility staff have knowledge of both visible and invisible disabilities. Knowledge of ADA laws is helpful but not required.
REGISTRATION:
Sponsor Liaison Lead
Oversees and distributes merchandise for the top attendee packages during the registration process when Director is not present. Aids with Royal Pony Lounge and ensures the packages have their VIP places in the event and panel entry lines. Helps with VIP meet and greet. Versatile, efficient and reliable person needed. You will have evenings free to attend the evening events of the con

Sponsor Liaison Second
Helps Sponsor Lead with all of their Duties and will also have evenings free.

Registration Staff (6x)
The very first volunteers BABSCon attendees see are responsible for keeping the registration lines moving as quickly and painlessly as possible. Training will be provided to handle On-Site and Pre-Registration transactions, printing badges, information checks, and basic line control. Cool heads, strong smiles, and unwavering kindness are especially welcome!
EVENTS & PROGRAMMING:
Trixie's Tables (Table-Top Gaming) Lead:
If you posses the Director's vision it takes to put on a Great and Powerful show, you might find yourself apt to this role. As Table-top Gaming Lead, it's your job to recruit volunteers, gather and organize games and equipment from volunteers, ensure that all such materials are cared for and returned to their owners, organize and schedule adventures and tournaments with the help of your staff, curate and moderate any original materials, and overall ensure everyone attending has a great time. Customer Service and event planning experience are highly recommended.
Renegade Stage/ Up&Coming Music Lead:
This role will help with looking for talented pony related musicians to feature on renegade stage, Neighhem, and other programming venues.
Assists in reviewing musician applications. Helps create promotional materials for music related prigramming at convention. Hosts musicians and oversees renegade stage during convention. Works closely with Neighhem Lead.
Child Programming Staff (2x)
Ensuring that even the youngest attendees of the con have an experience they'll treasure for a lifetime is something BABSCon strives for as a convention for all ages! Volunteers are required to keep the kids safe from harm while giving them the Best Con Ever! Being responsible and great with kids are highly sought after skills for this very important position
Charity Second:
Have a big heart and want to help us with giving back to the community at large? Then join us over at Charity, where you will be helping BABSCon process and prepare various gifts for use in our charity auction and lend assistance to the smooth running of our altruistic operations. Basic duties include interfacing with donors and beneficiaries, categorizing and organizing donations, and assisting the Charity Lead with key tasks. Basic data entry (spreadsheets) and guest service skills are ideal, but not necessary.
PR & MARKETING:
Staff
We always need help in getting word out! On social media, in your local community, reaching out beyond the core fandom… any way to convince more people to enjoy the awesomeness that is BABSCon! Previous marketing experience not necessary but you should be active and comfortable in a social media setting.
STAFF FEED & HOSPITALITY:
Staff (9x)
As the most beloved department of the con, taking care of the volunteers is an area where BABSCon excels! Volunteers are required to ensure the staff of other departments take their breaks, are hydrated, and well fed.
Calming Cove Staff (3x)
Help con goers in a space to help relax and decompress from the hubbub of the con

Cosplay Lead
Under the guidance of the E/P Directors this person will help create the magic which is cosplay at the convention. Tasks include hiring staff, creating guidelines for cosplay contests and fashion show, setup of the cosplay repair lounge, and welcoming a host of creative and friendly cosplay artists to enrich the convention milieu.
VIPR:
VIPR Second
VIP Relations is the single department that benefits most from the Rule of Two tradition. The highest stakes scheduling and communications will happen in this department and as VIPR Second you will be relied upon heavily by your Lead to ensure not only any plans goes off without a hitch and all obligations on both sides are met but being constantly available to our Guests of Honor. Good online and in-person communications skills highly sought. Previous VIP experience recommended.
VIPR Liaison (5x)
One of—if not THE—most important volunteer position at BABSCon. For the duration of the convention, volunteers in this position will become the personal assistants of BABSCon's Guests of Honor. Responsibilities include making sure the Guest of Honor enjoys their time at the con, and ensuring the Guest of Honor fullfills their contractual obligations (like being on time for agreed upon panels/autograph sessions). Volunteers in this position are held to the highest standards of professionalism. In return for total commitment to this position, volunteers get to associate with the staff who make My Little Pony: Friendship is Magic possible.
Green Room Staff (2x)
Ensuring BABSCon has a safe, quiet, and most importantly private location for BABSCon Guests of Honor to relax is a position held in the highest regard. Volunteers are responsible for stocking the Green Room with needed materials (drinks, snacks, etc.), attending to needs of VIPs while they're in the Green Room, and ensuring that only those who are allowed to enter the Green Room are let in. Remember, what happens in the VIP Green Room, stays in the VIP Green Room.
Autograph Room Staff (2x)
Voice Actors, Writers, and other Guests of Honor not tabling in the Vendor Hall will settle down in BABSCon's Autograph Room to meet con attendees. Volunteers are responsible for basic line management, running the cash register, and directing con attendees around the room to meet their favorite Guests of Honor! Retail experience is not necessary, but cool heads, strong smiles, and unwavering kindness are especially welcome!
VIPR Dispatcher (2x)
Dispatchers are the conductors behind the scenes of VIPR making sure the different parts of the department work together as one. During the course of a dispatch shift, you'll be monitoring VIPR radio traffic, phone calls, and text communications, recording the information that comes out and dispensing it to the appropriate parties. You'll notify panel moderators if VIPs are running late, arrange transportation and other logistics, and keep the Director and Assistant Director of the department in the know about what's going on.
PRODUCTIONS:
There are multiple positions available [Panel Tech (5x), Video Lead (3x), Stage Manager, Stage Hand (2x), Lighting Tech, Audio Lead, AV Tech, Camera Operator (3x), Switcher Operator].
LOGISTICS:
Logistics Lead
This position directs all logistics operations up to and including the following; Con set up and breakdown is done safely and efficiently, hiring of Logistics staff, planning and scheduling of logistics operations, arranging truck rental, leading a team of staff members during load in/out, answering supply requests from departments, logistics record keeping, materials and supply handling, making off site con supply runs, staff health and safety, and performing final all clear at con end. Scheduling is day -1 morning to possibly early Monday morning, shift work Friday and Saturday. Some pre and post con work can be anticipated. Previous experience as a Second, other Logistics Lead Con work is highly desirable for a person seeking this position.
Logistics Second
This position works as a supporting role to the Logistics Lead and if needed assumes the role as Lead. The person in this position will lead a team during con set up and break down. This person will also be tasked with offsite con pickups, loading and unloading materials, assisting Logistics Lead, and performing Lead delegated tasks if needed. This person in this position will be asked to work from first locker pick up (early Thursday morning) to last locker drop (late Sunday night/Monday morning) along with scheduled shifts during con time. Prior con experience in Logistics work is desirable but not required.
CONOPS:
ConOps Second
The "nerve center" of the con. If something (or someone) is missing, some info is needed, an issue is becoming 'an issue,' or anything, Con-Ops is there to relay radio and phone calls and get the proper people moving in the proper direction. As Con-Ops head you will be responsible for organizing, staffing and scheduling the Con-Ops Staff. At Con, you will be in charge of the Con-Ops room, radio distribution, ~etc.~ Previous experience in BABScon Con-Ops or Con-Support is preferred. Previous managerial experience recommended
VENDING & MERCH:
Con Store Lead
It's our own little retail operation. You will make sure that the Con Store is stocked, and staffed. You will explore new initiatives for specific items with vendors and with IT for online support throughout the off-season. Retail management experience highly recommended. Also, must be trustworthy for handling the money the Con Store brings in.
Vendor Relations Staffer
Multiple Positions Available. BABSCon prides itself on the quality experience of their Rainbow Falls Trader Exchange, for both con attendees and those set up in the hall. Volunteers are responsible for ensuring that Vendors have everything that they need and addressing any concerns/issues they might have. Customer service and communication skills are helpful, but not required for this position.
Vending & Merch Staffer (5x)
Multiple Positions Available. Smack dab in the middle of the Vendor Hall, the BABSCon store sells convention-branded swag and products throughout the length of the con. Volunteers are responsible for setting up the store, helping con attendees select their purchases, keeping track of the inventory, and running the cash register. Retail experience is not necessary, but applicants should be ready to talk to a lot of people in this exciting position.