BABSCon's 2021 Charities
Bay Area Brony Spectacular
A My Little Pony Fan-run Convention
April 2 - April 4, 2021 Rescheduled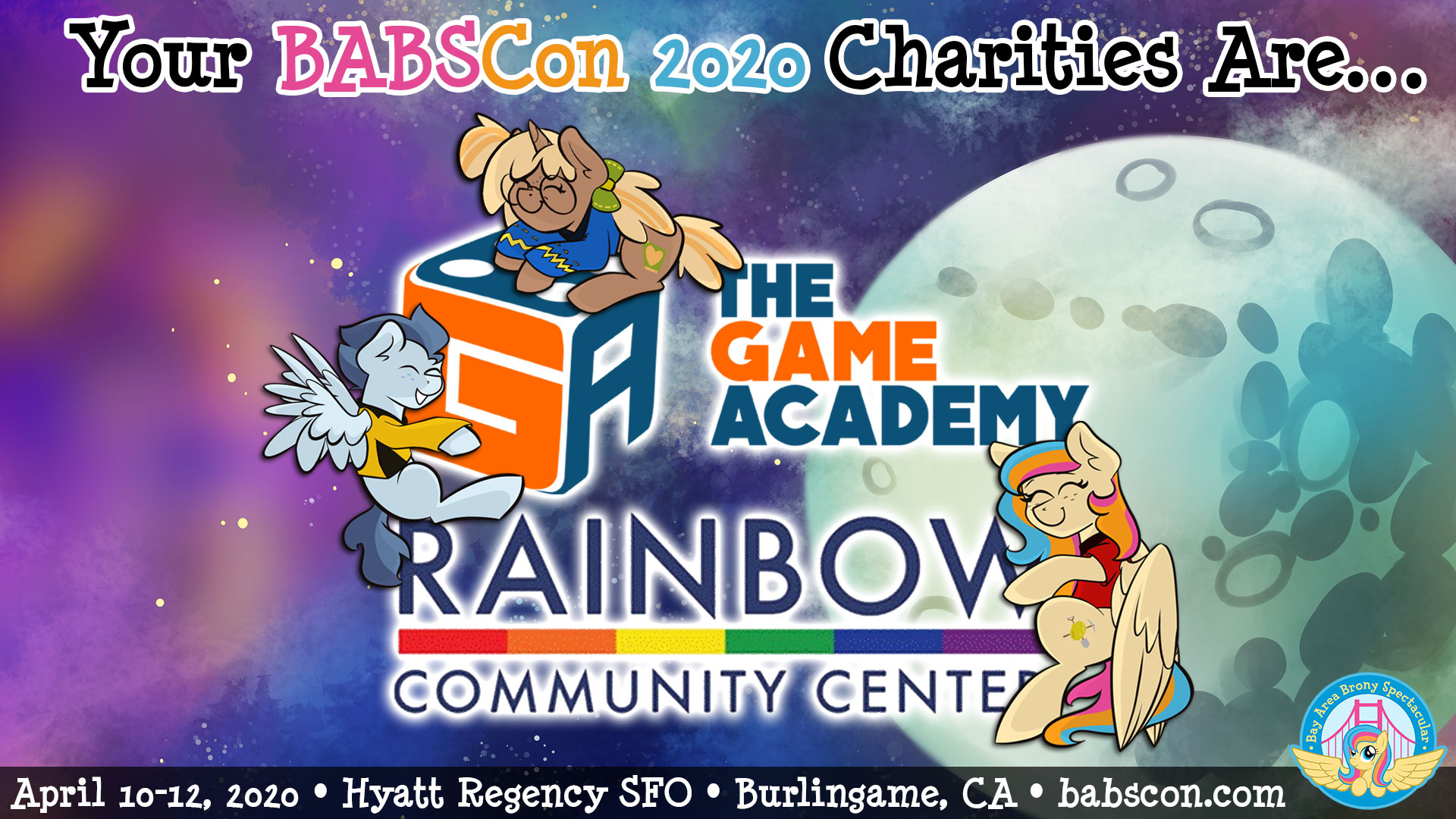 We are overjoyed to announce that we will be supporting The Game Academy and the Rainbow Community Center of Contra Costa County as our charities for the 2021 convention!
Specialty Events to benefit our charities for 2021 include:
Martial Bronies workshop
Charity D&D game
Brony Chef Meals
Live auction featuring DustyKatt
Silent Auction
Charity Party Room
and more!
This year, each charity will be bringing something unique to the con.
The Game Academy is an inclusive educational program for children 8 to 18 that uses tabletop and live action role-playing games to teach history, science, math, drama, English and life skills in a way that is engaging and fun. They'll be bringing a plethora of tabletop RPGs for BABSCon attendees, both kids and adults, and teaching us all about how they use these games for education.
The Rainbow Community Center of Contra Costa County builds community and promotes well-being among Lesbian, Gay, Bisexual, Transgender, Queer, and Questioning (LGBTQ+) people and their allies, including and especially LGBTQ+ youth. They'll be on site at BABSCon helping us learn about diversity, gender expression, exploration & identity, and general LGBTQ+ inclusiveness. (Also, did someone say, "Drag Queen Storytelling"?) RCC serves the more conservative, outlying portions of the Bay Area, often in the face of animosity, so let's show them the love and acceptance that is BABSCon.
We couldn't be prouder to help these wonderful local charities have a greater impact here in the SF Bay, so register now to come see them at BABSCon…but hey, you don't wait until next April to check out and donate to these worthy causes!
The Game Academy on: The Web • Twitter • Facebook • Instagram
Rainbow Community Center on: The Web • Facebook • Instagram • YouTube