Brony Chef
Bay Area Brony Spectacular
A My Little Pony Fan-run Convention
April 10 - April 12, 2020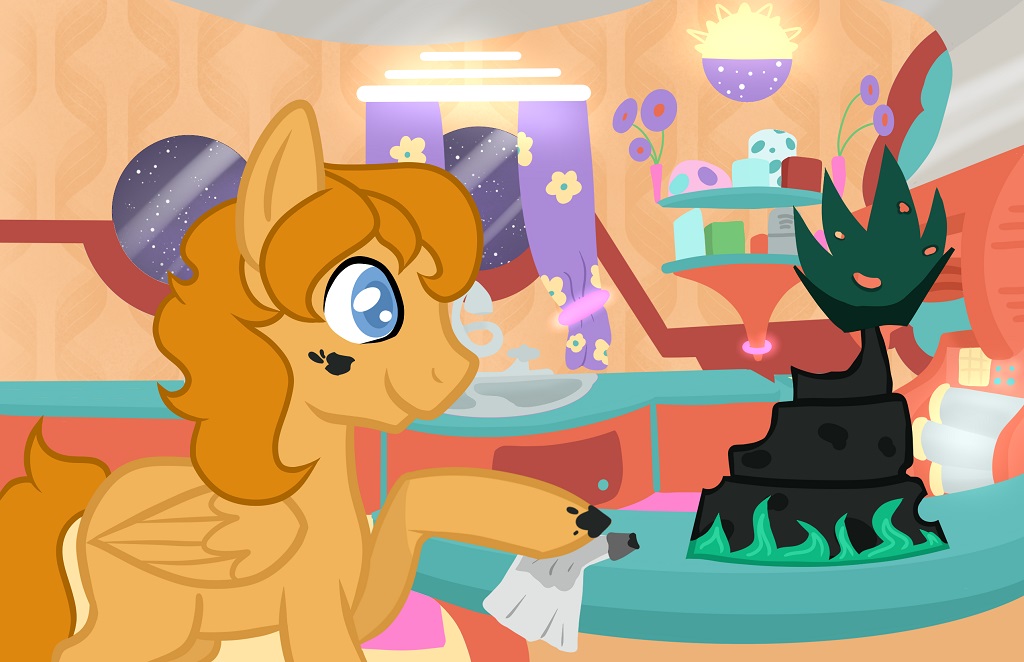 Brony Chef presents: A Villainous Meal Experience: Do You Dare?
Join us for a feast inspired by the darker side of Equestria in three meals to die for!
Each event is inspired by an agent of treachery from MLP:FIM, and created by The Brony Chef, exclusively for BABSCon 2020! 30% of proceeds from this event will be donated to this year's charities!
Click below for more information on how to purchase your limited opportunity to live and eat a little dangerously at BABSCon this year!
Click each for details on the menu!
Click a meal time for more information on the menu.
Conquer Equestria! Dinner
Four courses in Villainy
Friday 4/10/2020 $150
Appetizer:
Chrysalis
Swiss cheese salad with baby arugula, baby spinach, and deep-fried goat cheese, topped with sweet and salty almonds, blackberry vinaigrette.
Salad:
Discord
Baked kale with red pepper flakes, parmesano & olive oil.
Main Course:
Tirek
Sous vide mahi mahi with hibiscus & chile ancho crust, yam puree and heirloom carrots.
Dessert:
Cozy Glow
Spicy chocolate brownie with a triple chocolate ice cream.
Checkmate Lunch
A Cozy Affair!
Saturday 4/11/2020 $65
Appetizer:
"Just let Cozy take care of everything..."
Polenta with goat cheese strawberry & chile guajillo jam, with edible flowers.
Main Course:
"Hey, neighbor. Wanna be friends?"
Sourdough chicken hamburger deep fried sweet potatoes and tomato jam.
Dessert:
"This is not the real me! I'm cute and lovable!"
Pink meringue with mint and dark chocolate brownie.
Changeling Brunch
3 course lunch
Sunday 4/12/2020 $65
Appetizer:
"It will be mine!"
Swiss cheese crust with jalapeño & lime mousse.
Main Course:
"Love chicken."
Chicken breast filled with prosciutto & almond butter, green mix.
Dessert:
"Hey, I'm just here for the food."
Jalapeño cream with vanilla ice cream and crystalized lemon.
How to purchase:
If you've already registered, find your Confirmation Email and click the "Review your Order" link to edit your badge. Otherwise, start registering for BABSCon!
Find the Purchase Addons (or Choose your Addons) section, and select a Dinner, Lunch, or Brunch addon
Place Order and complete payment!
Further instructions will be made available closer to con so you can attend your selected meal.
Any difficulties, please email events@babscon.com for assistance.
---
What people were saying about last year's meals.
"Every part of the plate was a delight!"
"How did you make that?"
"...the Sweet Apple Acres breakfast event because I love apples. I'm a picky eater, so I was worried that all this carefully prepared food might be wasted on me. However, I ate everything that was put in front of me, and I was pleasantly surprised. The apple surprise and apple fritter were amazing, and I'm happy I can say I ate the entire dandelion sandwich. It was a fun and unique experience, and I hope others get the chance to enjoy such thoughtfully prepared food in the future!"
It's interesting to watch and listen to the mind of the Chef at work. There is a lot of thought process into providing a most excellent meal. It was a food experience from beginning to end like a good book or fine bottle of Apple Wine."