Silver Span's Salon
Bay Area Brony Spectacular
A My Little Pony Fan-run Convention
April 19 - April 22, 2019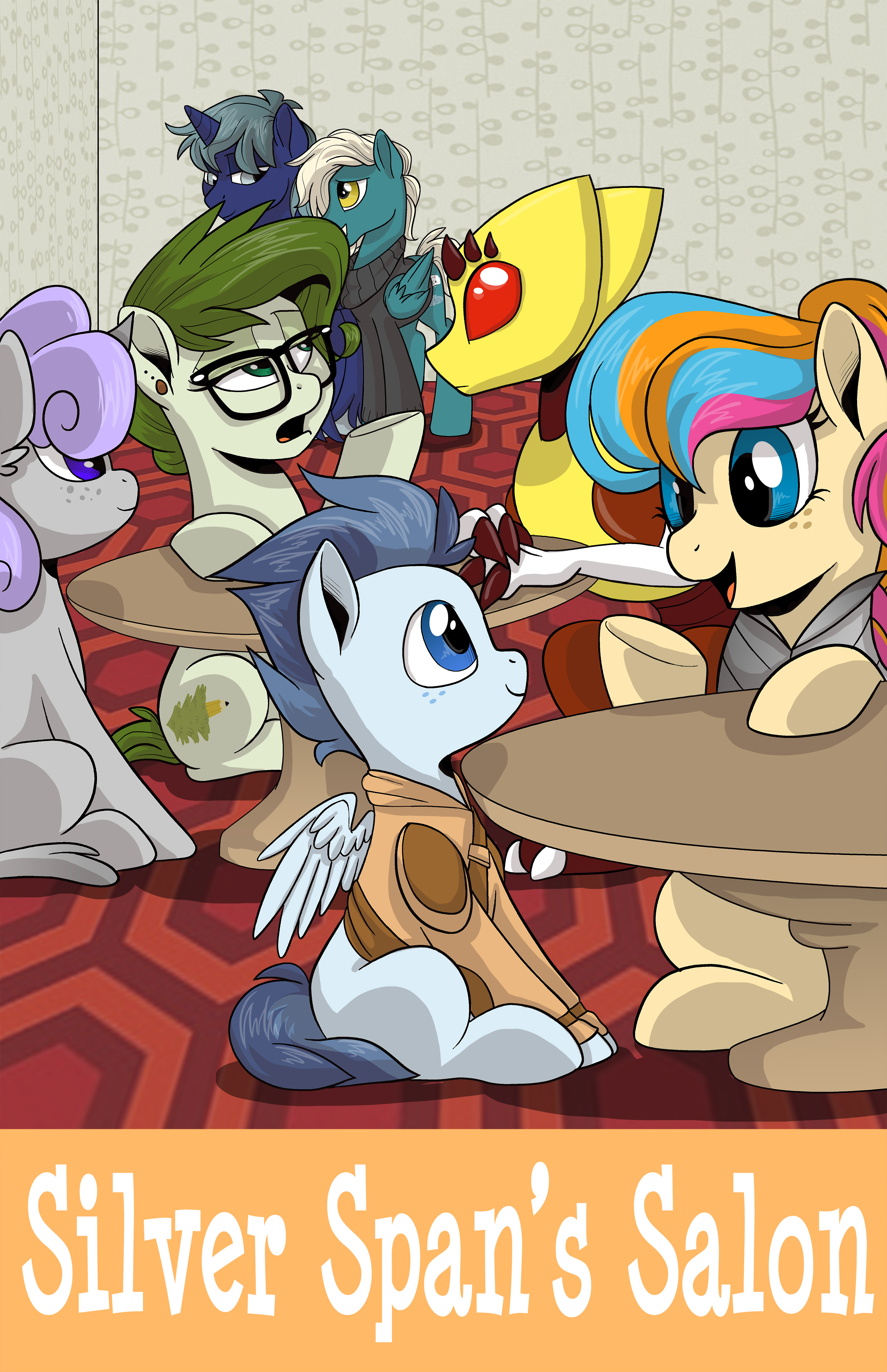 Silver Span's Salon is back again! Relaxed gatherings of one or more BABSCon Community Guests, Staff, or featured performers with up to 12 attendees will discuss their contribution to the MLP:FIM fandom. These take place in a business suite on the 2nd floor of the hotel and attendees are provided light refreshments as part of the event. And there will be a souvenir group photo taken and emailed to each participant.
The Silver Span Salon's schedule will be posted as part of the convention schedule. Each offering runs 60-90 minutes.
Unlike the other programming at BABSCon; Silver Span's Salon offerings are provided first-come first-served by signing up outside the Cyberden with the Silver Span's Salon hosts.
Sign up hours in person at convention will be:
Friday 3-9pm
Saturday 8:30am-9pm
Sunday 10am-8pm
Monday 9-10am
Please arrive back at the sign up area at least 10 minutes before your scheduled time. Waitlist folks will be added then.
You are allowed to sign up for one Silver Span's Salon offering and list yourself as an alternate on one more. If you are an alternate on an offering that is not full at the time of the event or if anyone is not there on time, then you will be allowed to attend. Most events fill up quickly.
Silver Span's Salon Options:
Friday
Sign ups happening all evening down in the Cyberden Foyer!!!
6pm Tea Party with Fireking
Tea party time...bring along a mug and we will provide the hot water, warm company, and a whole lot of teas that Fire King brought to convention with him!
Saturday
10am Coffee with The Barcast
Join this irreverent podcasting, crackfic reading crew for a bit of morning brew!
12pm The Musicians of Neighem!
Again this year, you can hang out in a relaxed setting with the headlining musicians of BABSCon 2019!
2pm Dana Simpson aka Marigold Heavenly Nostrils of "Phoebe & Her Unicorn" Fame.
Join Sketch, the youngest member of the BABSCon design team in hosting a relaxed meet n greet with Dana.
4pm Game Designers Meet-n-Greet
Welcome Chocolate Pony, David Silver, & Roan RPG to let you in on the rewards and perils of game design!
6pm DustyKatt & The Brony Chef
Are gonna come and hang out in the salon. Gonna be fun!!!
Sunday
10am Good Morning!!! Hoof Hearted are, once again,the guests for the Salon Cereal Bar morning. Drag yourself up out of bed and join us for breakfast! A funny friendly crew and maybe crayons!
12pm Those guys we love! ACRacebest & Saberspark, chatting, joking, and answering your questions!
2pm The Amazing Railroad Bronies take a break and hang out to talk trains in the Salon.
4pm Animators on The Couch!
We are having our animation Community Guests Minty Root, Yaasho, and EG Studios join us for some late afternoon chips and salsa and animatics!!
6pm How Many Analysts Does It Take??
Gonna see if we can get SilverQuill, Josh Scorcher, Thespio, & Lightning Bliss all in one place.
Monday
10am Cosplayer Coffee Klatch
Please come visit with the cosplayers of BABSCon 2019! Should be a delightful way to start the last day of the con!!