Winter may be coming, but Black Friday is upon us! And you know what that means. It's time for BABSCon's biggest sale of the year. We're knocking 20% off all memberships—yes, even our perk- and swag-filled sponsor-tier memberships—when you register with promo code BLACKFRIDAY20 from 12:00 AM Friday, 11/24, to 11:59 PM on Monday, 11/27. (All times PST.)
And if the chaos of our biggest sale of the year on the biggest shopping weekend of the year wasn't enough for you, we're adding MLP's Discord himself, John de Lancie, to our slate of Guests of Honor! You may also know him as Q from the Star Trek franchise, or his guest roles in Breaking Bad, Stargate SG-1, Charmed, and Torchwood: Miracle Day, among many, many others. He also produced a little documentary you may have heard of called Bronies: The Extremely Unexpected Adult Fans of My Little Pony.
John joins our previously-announced Guests of Honor, Kelly Sheridan, Trevor Devall, and Amy Keating Rogers, with several more announcements yet to come.
So, don't miss out on your chance to see all of them at our lowest prices of the year! Be ready at the stroke of midnight on Black Friday to buy BABSCon 2018 memberships for yourself, your family, and your friends for a whopping 20% off by using promo code BLACKFRIDAY20. Prices for 2018 won't be this low ever again!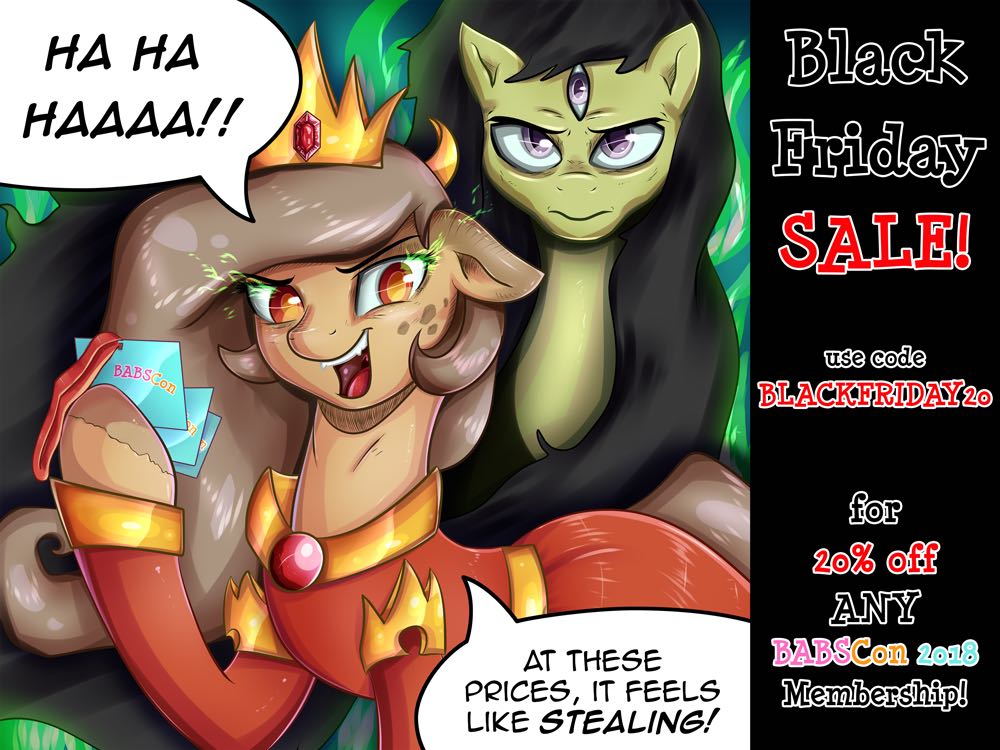 (Black Friday art by EifieChan, John de Lancie announcement art by Fauna & SketchThePony13)